Founded by Bill Fabrey in 1969, the National Association to Advance Fat Acceptance (NAAFA) is a non-profit civil rights organization dedicated to ending size discrimination in all of its forms. NAAFA's goal is to help build a society in which people of every size
(except for slender and athletic women. We hate those bitches!)
are accepted with dignity and equality in all aspects of life. NAAFA will pursue this goal through advocacy, public education, and support.
To support this effort, we will need lots of Twinkies. And Boston cream donuts - we just love those! It's the closest thing we can get to male semen. Oh, and venti caramel macchiatos to wash it all down. Thanks for your support!
http://www.naafaonline.com/dev2/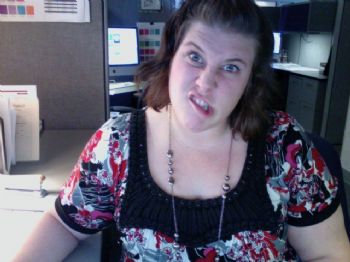 Angry fat girl!
Anyone want to hazard a guess at what the female percentage is in this organization? I'm guessing >90% twat.
An obese guy knows that no one gives a fuck about him
, least of all women. He either learns to accept that he will be forever ostracized or he loses the weight. An obese female on the other hand wants to make everyone accept her - all 300lbs of her.
The most dreadful thing about NAAFA and much of the fatosphere is the gluttony denial. Everytime one pigs out they have to lie and deny when in reality...GLUTTONY IS GOOD!
There are a lot of guys who will pork BBWs and SSBBWs so what are these fat girls so pissed off? Fat porn is huge these days. A simple Google search proves that. Fat girls are sluts.
Fat girl porn sites are flooding the internet. Men are not rejecting these hot and horny hoggers. Actually it is quite the contrary. Since fat girls are easy guys are porking them keft and right.