North Carolina has 67 operating coal-fired power units at 25 locations totaling 13,279 megawatts (MW).
A Shocking History of North Carolina's Coal Plants
North Carolina produces a disproportionately large amount of carbon dioxide, in large part because of the state's numerous coal plants, and ranks 14th in the nation in CO
2
emissions. The state produces 77 million tons of CO
2
every year, an amount only slightly less than California's 79 million tons, despite the fact that North Carolina's population is one quarter the size of California.
[2]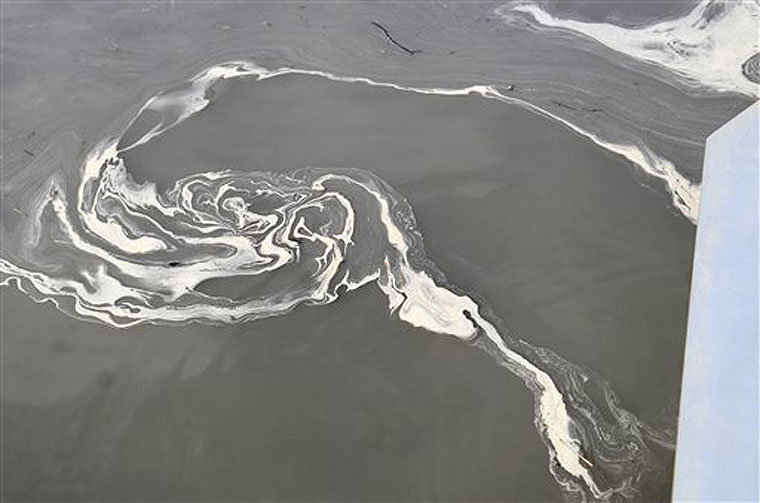 One of Duke Energy Coal Ash Spills
N
orth Carolina-based
Duke Energy
is planning an 800MW expansion at its
Cliffside plant
that would emit an additional 6.25 million tons of CO
2
per year. Duke Energy is the nation's third largest producer of carbon dioxide, emitting 108 million tons of CO
2
per year, despite CEO Jim Rogers' public calls for federal legislation to reduce greenhouse gas emissions. Duke's eight plants in North Carolina produce 41 million tons of CO
2
each year, more than half of the state's total yearly carbon dioxide emissions.
[2]
In May 2010 the
Union of Concerned Scientists
released a report titled,
Burning Coal, Burning Cash: Ranking the States that Import the Most Coal
. In the paper the group reported that
North Carolina was the second most coal dependent state in the country, spending $2.3 billion on coal imports in 2008.
[3]
Cost of Coal Compared to Other Fuels
Fuel Cost Btu Content $/MMBTU
Wood Chips
$34/ton 5,000 Btu/lb $4.25
Switchgrass $60/ton 7,500 Btu/lb $5.00
Coal $120/ton 25 MMBtu/ton $6.00
Oil $2.50/gal 140 MBtu/gal $22.32
Natural Gas
$1.25/therm 100 MBtu/therm $15.63
• A native, warm season grass
• Requires minimal fertilizer and water
• Can grow on marginally productive land
• Harvest with traditional agricultural equipment
• Switchgrass will yield 3-4 tons per acre
• Low density, benefits to densifying
• Immature market: Harvesting would create jobs for decent people
Is the cleanest fuel next to hydrogen

Requires drilling and fracking

Failing gas pipe infrastructure

Natural gas is highly explosive
Can be burned far more cleanly than coal.

Not renewable

Expensive

Causes major environmental disasters

Drilling and refining is dangerous
Can be burned cleanly

Renewable

Not enough trees to meet demand
Coal mining harms the environment and kills the miners.
Coal ash kills
Fly ash from coal kills
Coal cannot be burned cleanly
Coal plants increase cancer rates
Coal plants cause many diseases in children
Coal stinks