There is no question about it, many American police forces are our out of control and a threat to what is left of American democracy but the individual cop is another story. The men and women in blue put up with a lot of crap from the public as well as their commanders. In spite of that, most cops do their jobs quite well. I think about the crap and the assholes they have to deal with on a regular basis and then I think about speed bumps, unlocking and locking doors, having to install security lights, paying more for everything because of shoplifters and think if I were a cop I'd want to beat the shit out of some low-life criminal types.
I can't think of many good things to say about Black Lives Matters. They come across as divisive, ignorant, rude, dishonest, racist and loud. I am all about people owning their baggage.
The police need to:
Admit there are too many trigger-happy cops.
Stop policing for profit.
End the drug war.
Fire any cop who uses excessive force.
Admit they violate the constitution.
Start arresting corporate criminals.
African Americans need to:
STFU from time to time and listen.
Admit they fact that they are 13% of the population yet they are responsible for over 50% of the crime.
Admit that most of the killings of African Americans by cops are totally and completely justified.
Stop having babies out of wedlock. 70% of African American children come from a broken home and are raised by a female.
Stop blaming White people.
Stop their blind hatred for the police. Fuck the police? Fuck you to because the cops do more good than harm. I can't say the same about you.
Stop calling the POLEECE if you hate them so much.
Stop committing so much of the crime.
Police departments can be reformed. I have less hope for the African American community. When I think about how they cheered the OJ Simpson acquittal, how the rioted after the first Rodney King trial, and how they rallied around criminal thug and douche bag Michael Brown I realize that a community as dishonest, hateful and racist as the African American community will continue to self-destruct. Now you can start calling me a racist even though I am talking about a culture.
RELATED:
Black lives matter? Apparently, they don't matter very much to African Americans unless of course if the Black in question is a thug shot by a White cop. On the first day of the new year, African Americas in Chicago went on a rampage against other African Americans.
Black Lies Matter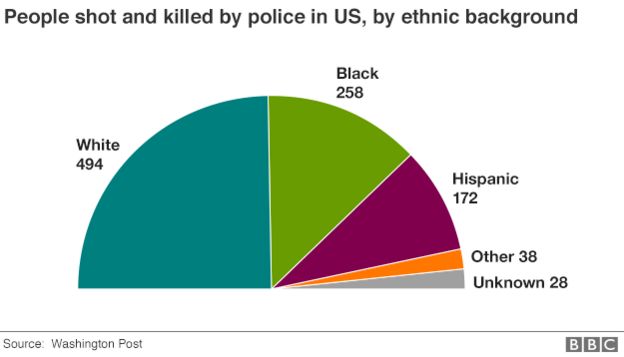 African Americans would like you to believe that the only people killed by cops are Blacks. Cops kill a hell of a lot more Whites than Blacks. In fact, cops disproportionately kill more Whites than Blacks. Blacks commit most of the crime in the use and far more of the very serious crimes such as murders, assaults, and rapes so one would suppose that since cops have more criminal encounters with Blacks than White they would be killing far more Blacks than Whites as the Black Lives Matter organization would like you to believe. The truth is, cops kill more Whites than Blacks.
Year, Chicago Racks Up Its First Homicide
CHICAGO — In a rash of shootings that began New Year's Eve and stretched into 2016, two men were shot and killed and 14 people were injured.
The year's first homicide happened just two hours into the new year in the South Side Grand Boulevard neighborhood.
• Around 2 a.m. Friday in the 4600 block of South Saint Lawrence Avenue, police say 24-year-old Deandre Holiday, of 5100 block of South Indiana, was in an argument with someone who pulled out a handgun and shot him in the chest. He died at the scene.
A 38-year-old man was also shot in the hand during the incident. He transported himself to Provident Hospital, where's he's in good condition.
• Around 6:40 a.m. in the 1900 block of West Garfield, a man in his 30s was shot in the chest and taken to Stroger Hospital, where he was later pronounced dead.
He was later identified as Donzell M. Davis, 36, of the 9700 block of South Indiana Avenue. He was pronounced dead at 7:20 a.m., according to county morgue records.
• Twenty minutes earlier, at 6:20 a.m., in the 5400 block of Winchester, a 29-year-old man was shot in the shoulder and taken to Stroger in unknown condition.
• At 2:45 a.m., three men — 26, 22 and 20 — were at a gas station in the 7500 block of South State Street when someone in a passing vehicle opened fire. The 26-year-old was shot in the leg, the 22-year-old was shot in the arm and the 20-year-old took a bullet in the back. They walked themselves into Saint Bernard Hospital, where medical crews nursed them to stable condition.
• Around 2:05 a.m. in the 9800 block of South Beverly Avenue, a 24-year-old man was shot in the back and another 24-year-old man was shot in the hand. Both men were able to take themselves to Advocate Christ Medical Center, where they were listed in stable condition.
• At 12:50 a.m., at a party in the 9200 block of South Drexel Avenue, a 38-year-old man was shot in the chest and back. The victim got into an argument with someone who pulled out a gun and shot him. The man was taken to Advocate Christ Medical Center in critical condition.
• At 12:05 a.m., just minutes after the start of 2016, a woman was standing in a home in the 8000 block of South Paxton Avenue when a bullet burst through a window and grazed her hand. She landed at Advocate Trinity Hospital in good condition.
• At 10:15 p.m. Thursday in the 7000 block of South Laflin Street, an 18-year-old man was shot in the hand. He was able to take himself to Holy Cross Hospital in good condition. Police say the gunshot wound may have been self-inflicted.
• Around 8:15 p.m. in the 6200 block of South Martin Luther King Jr. Drive, a 30-year-old man pulled into a driveway and was shot in the leg. Police did not have information on where the man received medical treatment.
• At 4:45 p.m. in the 7200 block of South Aberdeen Street, a 28-year-old man was shot in the leg by someone in a passing, light-colored vehicle, police said.
• Around 3:10 p.m., two people — a 24-year-old man and a 26-year-old woman — were shot in the 1000 block of North Lorel Avenue. There was an argument, police said, and the shooter pulled out a gun. The man was shot in the leg and the woman was shot in the stomach. Both victims landed at Stroger hospital, where the man's condition is stable and the woman's condition is serious.