The internet is full of crooks who should be found and beaten to death for all the world to see. Uncle Raggy aka Raggy Ragsdale has exposed those fuckers for the thieving fuckers that they are.
The company behind this product was found to be stealing Malware Bytes database. Personally, I would not trust installing any software from a company that resorts to stealing someone's technology to sell their product.
Please see the following links and make up your own mind if you want to keep this on your system.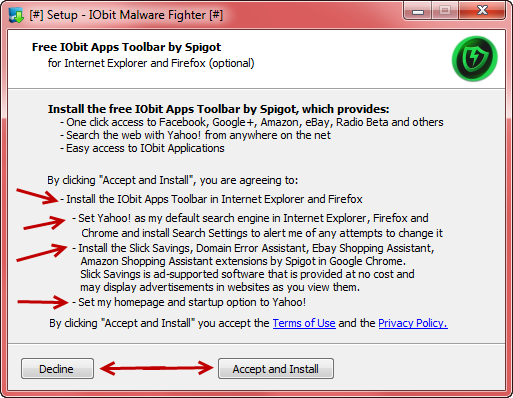 IOBIT's Advanced Systemcare will hijack your computer.
Warning;

if you download IObit's Advanced System Care you are very likely to download with it the Yahoo Redirect Rootkit virus. There is no indication and it's downloaded whether you download from CNet or IObit. The virus takes over all your browsers and redirects them to Yahoo. All the browser resetting in the world will not get your browsers away from Yahoo. It's very difficult to eradicate. None of the anti-virus products work. Norton Internet Security missed it and Malwarebytes, Hitman, Stinger & Spybot didn't get rid of it. If you have a System Restore prior to downloading, that might work