The treasonous right has their panties in a bunch over the image of Kathy Griffin holding a severed head of treasonous comrade Trump. The filth on the right conveniently forgets who they lynched President Obama in effigy and how the spread the birther lies throughout his presidency or how they spread the lie that Michelle Obama was a man and that her daughters were adopted. So as to their protests of the image below, most of you Trump supporters deserve a trip to the guillotine along with the other traitors.
Under common law, punishment for treason generally included drawing, hanging, beheading, and quartering. As with other crimes carrying a sentence of death, those adjudged guilty of treason and finally sentenced were considered attaint, or stained, meaning dead in the eyes of the law—even before execution.
I think the image is prophetic. GO KATHY! No need to apologize. DOUBLE DOWN!!
Tuesday, May 30, 2017 From Sleazy Bastards Website
When a fat person is hanged often the head is pulled from the body. Traitors are sometimes hung by the neck by the neck. If and when Trump is hanged for his treasonous acts, it is very possible that Trump's head will be severed from his obese and grotesque body. SNAP - POP - SQUISH - LOL! A fitting end to a traitor and Russian agent.
Kathy Griffin holding a bloody severed head of Trump sends a very powerful and much-needed message to America and the world. Nazis beware and crawl back under your rocks because you may be next. Trump, beyond a shadow of a doubt, is a Nazi and Nazis cannot be reasoned with so there is no point in ever trying to do so.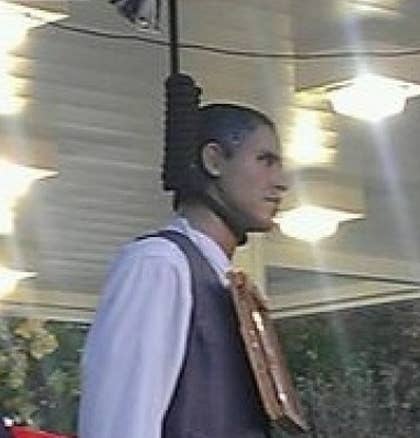 Kathy Griffin was making a joke. The alt-right trash was serious.