The following is Je
nna Talia's first article on Bigger Fatter Politics.
This may be disturbing to

some

readers as Jenna is recounting a vicious and unprovoked attack by a pod of angry land whales. Keep watchng the comments section for comments from both me, Fat Bas

tard

and Jenna.
Click here to see an example of Jenna Talia's interviewing skills. It turns out that Jenna is a wine expert and originally she mistook me Fat Bastard for the owner of Fat Bastard wines.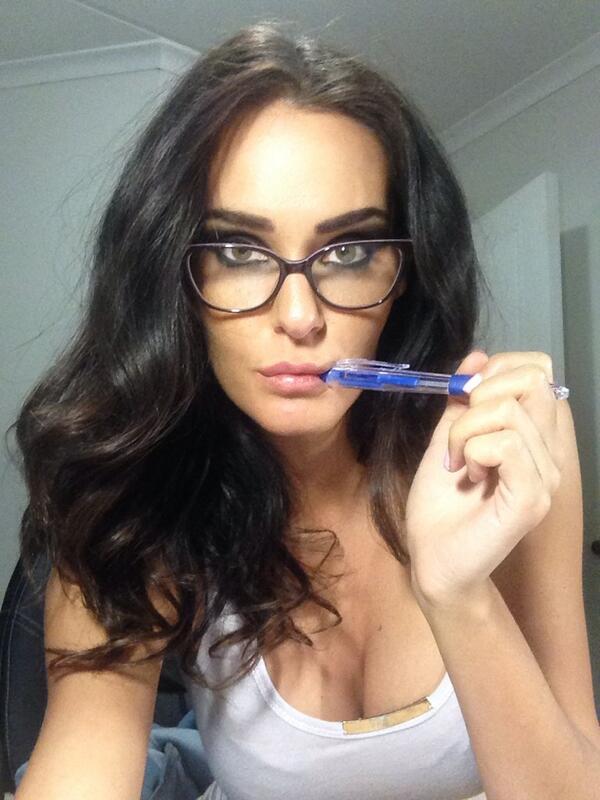 Jenna Talia
Attacked By A Jealous Fat Girl
by Jenna Talia
My first deadly encounter with an enraged fat girl happened one summer as a junior in high school. A friend and I stopped at an ice cream shop for some gellato. Instead of sitting at the round umbrella covered picnic tables and eating ice cream my friend Priscilla and I decided instead to stand to enjoy our frozen confections. While we were eating our tasty treats some friends of Priscilla's pulled into the parking lot and she walked over to talk to them. It was then when the first insult was hurled at me. It came from a table of angry fat girls who were students from a nearby college. They were purposely talking loud enough for me to hear them. They were referring to me as, that skinny slut, bone, anorexic skank and size 0 stick girl. When I looked up at them for ringleader shouted at me, "what are you staring at skank?" I ignored her. Then she said, " I'm talking to you skank" I continued to ignore her. Then she said, "Real women have curves stick girl." while another one said, "Only a dog wants a bone". I responded, "yeah whatever." Even though I was dressed much more modestly than they were one of them accused me of dressing like a slut. At this point people were beginning to watch. Priscilla noticed and asked what was going on. I told her I didn't know and I suggested that we just leave. As we were getting ready to leave when suddenly the biggest and meanest fat girl got up from her seat to further confront me. I turned and walked away when she grabbed the back of my hair and yanked me to the pavement. Priscilla tried to pull her off me put this enraged land whale appear to have superhuman strength. Luckily for us a police car happened to be coming by. The officer was able to stop the attack and that's when things really got interesting.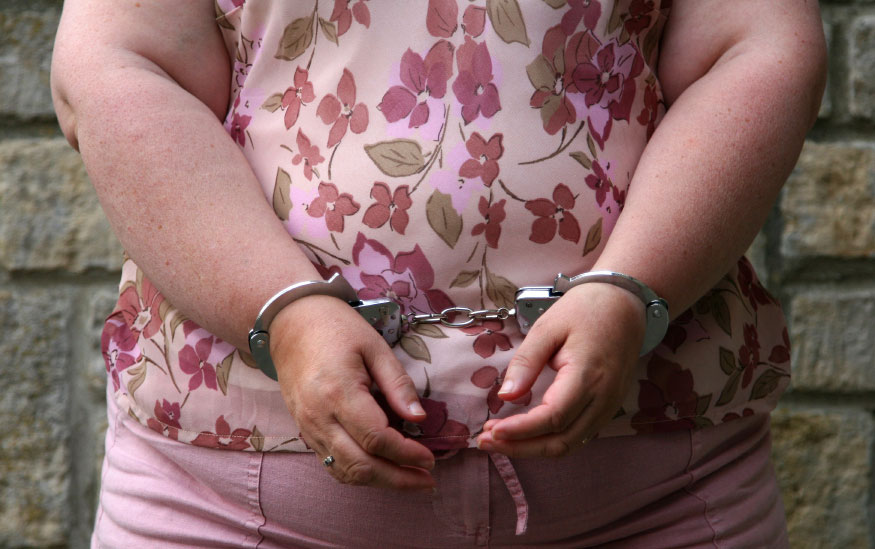 Too fat to handcuff behind the back!
Within minutes another police car pulled up with its lights flashing and siren blaring and another officer got out. Then a Sheriff's car pulled up with two deputies. They were getting witness accounts of the altercation and attack. Her friends lied to the police and told her I had started the fight while other witnesses told the truth. The officer who was interviewing me told me that he believed me and let me know that he was letting the big nasty fat girl and her big nasty fat friends dig themselves in deeper with their lies. The officer knew that there was a surveillance camera that would've captured the entire incident. They got the fat girl and her friends to sign sworn statements. They then got the store manager to show them the surveillance video. Once the officers and the Sheriff's deputies saw the video all of the angry fat girls were placed in handcuffs, arrested and charged with various crimes.

Fat guys are really nice guys. The fat manager who showed the police the video of the attack was a big teddy bear of a man. He brought out a first aid kit and some ice for my cuts and bruises. In the meantime, the police had called the fire rescue ambulance. As a precautionary measure paramedics placed me in a neck collar and placed me on a stretcher and then I was placed into the ambulance. They said that I had a mild concussion and some soft tissue trauma to my neck. The manager was quite upset by what had happened. He gave Priscilla his business card along with a stack of coupons for free products as a gesture of goodwill.

The police called my parents and informed them that I was being taken to a local hospital for injuries sustained in an assault. They and my mom and dad met the ambulance at the emergency room. They had asked the police what happened and the police informed them that I've been attacked by a jealous and angry fat girl simply because I looked better than she did. The officer went on to inform them that these sort of attacks are not all that uncommon these days. He assured them that I would be okay but for liability reasons and for my own safety I had to be looked at by an emergency room physician. While there in the E.R. my injuries or photographed in the police obtained a medical report to aid them in leveling charges and prosecuting this case.

Unfortunately, the angry fat girl could not be charged with a hate crime even though this was clearly a hate crime. She and her friends all plead guilty to various charges. She was sentenced to six months in jail and her perjurious cohorts were each fined one thousand dollars for knowingly making false statements to the police.

In a civil case, I won $78,000 judgment against my attacker for actual damages, pain and suffering and punitive damages. We are still trying to collect on the judgment as the beast who attacked me is a big stinky fat welfare momma.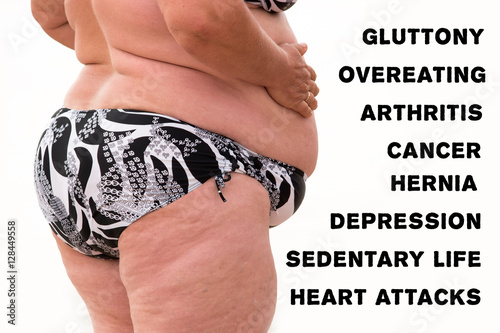 Since this incident, my family and I have developed a close friendship with Jerry the ice cream store manager who was so kind, compassionate and helpful. He truly was my knight in shining armor along with the law enforcement officers many of whom were fat but very wise. I'm still at a loss as to why fat guys are so nice since they are usually the butt of jokes and fat girls who are a protected species are so mean. I guess some things will remain a mystery.
As horrific as this incident was it is given me a greater appreciation of fat guys and an increasing disdain for fat girls. Fat men are far less likely to cause trouble than any other group of people. It was Jerry a fat man who first rushed to my aid and defense. After reading Fat Bastardo's articles I have come to believe that the humility, nobility and a sense of honor are traits quite common to fat men and all men but pride, jealousy, avarice and rage are the traits that make fat girls so darn mean.
Comment: By Fat Bastardo

:
Fat girls love to eat, fuck and fight and not necessarily in that order. Fat girls are particularly dangerous when there are food and skinny men around. It makes them more dangerous. Always exercise extreme caution in these situations.
Why are fat guys so nice? I think it is because we are honest and we are fine in our own skin despite the cruel taunts we sometimes get. There are other reasons. First off we are male and therefore we are held to higher standards of conduct. We are not mommy's little prince the way girls are daddy's little princess. It is not OK for us to hit girls but it is OK for girls to hit us especially if we are fat.
Fat girls often have excessive estrogen and testosterone due to their tremendous bulk whereas fat men have slightly less testosterone and slightly more estrogen that the average lean guy because fat holds estrogen and our sloth decreases the production of testosterone
.
Fat Bastardo's Update:
The sow who attacked Jenna got early release but a few months later Child Protective Services took her kids away. It turns out that this violent pig was also a child abuser.
Fat Girls: Jealous - Aggressive - Violent
Fat Girls Fighting Over FOOD!
I hope these cops get tested for diseases after handling this wild Snorlax!